Industrial scanning equipment like X-ray machines are used in a wide variety of applications, ranging from non-destructive evaluation looking for manufacturing defects and contaminants to scanning trucks or baggage to ensure safety and security.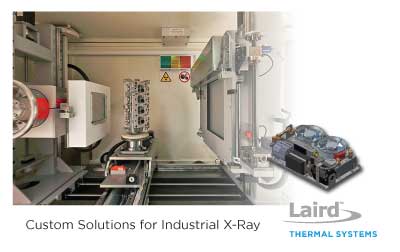 Liquid cooling systems provide an excellent cooling mechanism to transfer system heat to the ambient environment. Thermal management systems featuring liquid cooling offer higher efficiencies than air-based heat transfer mechanisms. This translates into higher reliability, reduced field maintenance, greater system uptime and lower total cost of ownership.
Laird Thermal Systems has more than 45 years of experience providing high performance liquid cooling systems with long operating lifespans for non-destructive testing applications. Our custom products use both oil- and water-based cooling, with various heat exchanger or chiller technologies. Whether the emitter is X-ray, alpha or gamma rays, we understand our customer applications and can develop solutions custom-tailored to their specific environmental, performance and size requirements.
Laird Thermal Systems engineers respond quickly with customized liquid cooling system designs and provide exceptional customer support. Please contact us and we will help you get your design underway.