ET6 12 F1 4040 TA RT W6 ( MFG Part Number: 387001835 )
ET6-12-F1-4040-TA-RT-W6 ( MFG Part Number: 387001835 )
ET6-12-F1-4040-TA-RT-W6
MFG Part Number 387001835
Legacy Product
HiTemp ET Series Thermoelectric Cooler

Note:

This product is not recommended for new designs.


Please click the [Legacy Stock] button to see inventory available.
This product series has been replaced with the HiTemp ETX Series.
The recommended replacement is:
MFG Part Number: 387004917
Description: ETX6-12-F1-4040-TA-RT-W6

The ET6-12-F1-4040-TA-RT-W6 high temperature thermoelectric cooler uses Laird Thermal Systems' enhanced Thermoelectric Module construction preventing performance degrading diffusion, which is common in standard grade thermoelectric coolers operating in high temperature environments exceeding 80 °C. It has a maximum Qc of 52.5 Watts when ΔT = 0 and a maximum ΔT of 77.9 °C at Qc = 0.
Features
High-temperature operation
Reliable solid-state
No sound or vibration
Environmentally-friendly
RoHS-compliant
You can interact with the Performance Curves below to estimate the cooling performance by entering the thermal and electrical operating conditions for your application.
Click the [Save Changes] button to create a Customized PDF Datasheet.
Please Note: Actual application performance will vary from calculated values based on actual thermal design characteristics.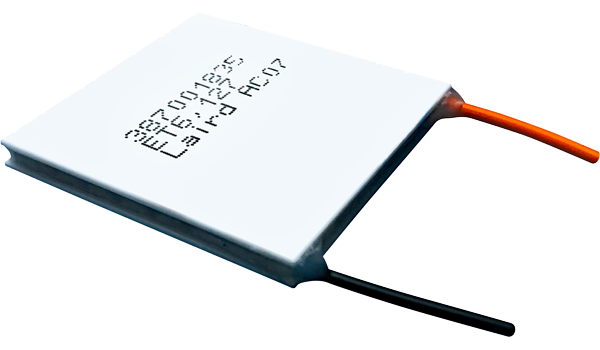 Electrical and Thermal Performance
Use the sliders, input fields and [UPDATE] button below to enter your application's electrical and thermal conditions. Use the Graph Y and X Axis buttons to display a variety of performance curves and use the Voltage/Current slider to choose the electrical operating point to display performance.
Click [Save Changes] button to save your results as a Customized PDF Datasheet.
Selected Operating Point
Cooling Power (Qc) = Watts
Current = Amps
Voltage = Volts
Power Supply = Watts
COP =
Power Dissipated (Qh) = Watts
Thot = °C
Optimum COP
Cooling Power (Qc) = 5.72 Watts
Current = 0.84 Amps
Voltage = 2.34 Volts
Power Supply = 1.96 Watts
COP = 2.92
Power Dissipated (Qh) = 7.68 Watts
Maximum Qc
Cooling Power (Qc) = 40.22 Watts
Current = 6.57 Amps
Voltage = 14.37 Volts
Power Supply = 94.45 Watts
COP = 0.43
Power Dissipated (Qh) = 134.67 Watts

Select Graph
Y - Axis




Select Graph
X - Axis



Finishing Options
Suffix
Thickness
Flatness / Parallelism
Hot Face
Cold Face
Lead Length
11
3.810 ±0.051 mm
0.150 ± 0.0020 in
0.051 mm / 0.051 mm
0.002 in / 0.002 in
Lapped
Lapped
50.8 mm
2.00 in
Sealing Options
Suffix
Sealant
Color
Temp Range
Description
RT
RTV
Translucent or White
-60 to 204°C
Non-corrosive, silicone adhesive
Notes
Max operating temperature: 150°C
Do not exceed Imax or Vmax when operating module
Reference assembly guidelines for recommended installation
Any information furnished by Laird and its agents, whether in specifications, data sheets, product catalogues or otherwise, is believed to be (but is not warranted as being) accurate and reliable, is provided for information only and does not form part of any contract with Laird. All specifications are subject to change without notice. Laird assumes no responsibility and disclaims all liability for losses or damages resulting from use of or reliance on this information. All Laird products are sold subject to the Laird Terms and Conditions of sale (including Laird's limited warranty) in effect from time to time, a copy of which will be furnished upon request.

© Copyright 2019-2021 Laird Thermal Systems, Inc. All rights reserved. Laird™, the Laird Ring Logo, and Laird Thermal Systems™ are trademarks or registered trademarks of Laird Limited or its subsidiaries.
Date: 01/17/2022