Incubators used in hospitals and laboratories to grow and maintain cell cultures require precise temperature control. Due to the space constraints in incubators, thermal solutions must have a compact form factor. Incubator manufacturers also face challenges related to airflow, moisture, dust and ease of cleaning. Modern compressor-based refrigeration systems meet the sample storage chamber design requirements mentioned above. Self-contained compressor-based refrigeration systems recirculate air to a predefined set-point temperature, and allow for optimal temperature stabilization for more precise process control.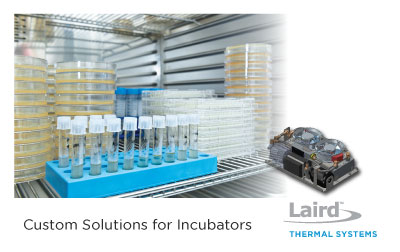 There are many unique design attributes for consideration in a sample storage compartment. A custom cooling system configuration may be required to optimize performance and provide long-life operation. 
Laird Thermal Systems offers strong engineering design services with a global presence that supports onsite concept generation, thermal modeling, mechanical and electrical design and rapid prototyping. 
Please contact us and our team of thermal experts will assist on your next thermal management project.