Nextreme™ Series - Below ambient recirculating liquid chillers
Nextreme™ Series - Below ambient recirculating liquid chillers
Nextreme™ Series
Compressor-based recirculating liquid chiller
The Nextreme Recirculating Chiller Platform features premium components and environmentally friendly refrigerants in a user-friendly design. It is designed to cool well below ambient and dissipate heat away from thermally sensitive equipment. Featuring variable speed motors for the compressor and condensing fan, the Nextreme Chiller Line offers a high coefficient of performance and low-noise operation. The platform comes with several standard features and additional options allow for application-specific configurations.
Model Numbering
Example: NRC2400-A1-20-ST1
Basic Model No.
Cooling Engine
Electrical Configuration
Pump Options
NRC1200
Qc = 1,600 Watts
NRC2400
Qc = 2,800 Watts
NRC5000
Qc = 4,900 Watts
10
100-120VAC
1ph, 50/60 Hz
20
220-230 VAC
1ph, 50/60 Hz
ST1
Stainless, Turbine Pump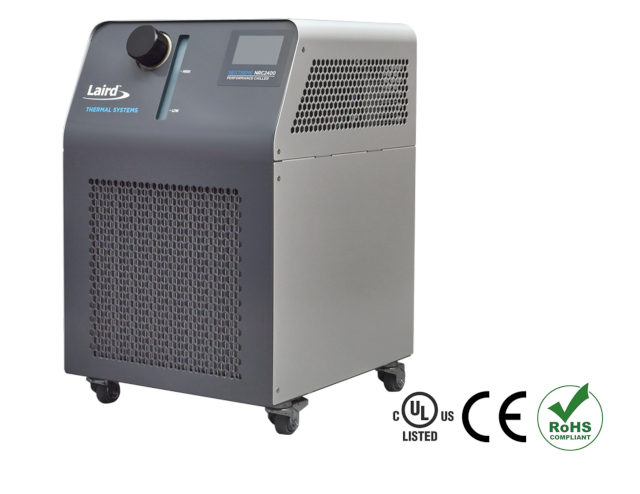 Applications
Features
Reliable Performance
Environmentally Friendly
User-Friendly
Application Specific Configurations
User Installed Accessories

* Any information furnished by Laird Thermal Systems and its agents is believed to be accurate and reliable. All specifications are subject to change without notice.
Cord Options
These power cords have been tested and validated on Nextreme devices.
MFG Part Number
Plug Type
Standard
Style
Cable
Length
Rating
Color
Connector
Order
387005324
Universal
None
Flying Leads
2.0 m
250VAC, 16A* / 20A**
Black
C19 V-Lock
387005325
United States
NEMA 5-15P
straight
2.0 m
125V, 15A
Black
C19 V-Lock
387006932
Japan
JIS 8303
straight
2.0 m
125V, 15A
Black
C19 V-Lock
* IEC ** UL