OL4503 ( MFG Part Number: 1264.00 )
OL4503 ( MFG Part Number: 1264.00 )
OL4503
MFG Part Number 1264.00
WL Series Liquid Cooling System
Oil cooled systems OL4503 is designed to circulate transformer oil and are used in applications where the temperature at the heat source exceeds the operational temperature limit of water?based coolants, or when special insulating properties are required within the coolant loop. The OL Series is a recirculating liquid to air heat exchanger that offers dependable, compact performance by removing large amounts of heat from a liquid circuit. The coolant pump to assure maximum flow rate. The coolant is recirculated using a high-pressure pump to assure maximum flow rate. Heat from coolant is absorbed by a heat exchanger and dissipated into the ambient environment using brand name fan.
Features
Cooling to ambient
High heat pumping capacity
Compact form factor
Long life operation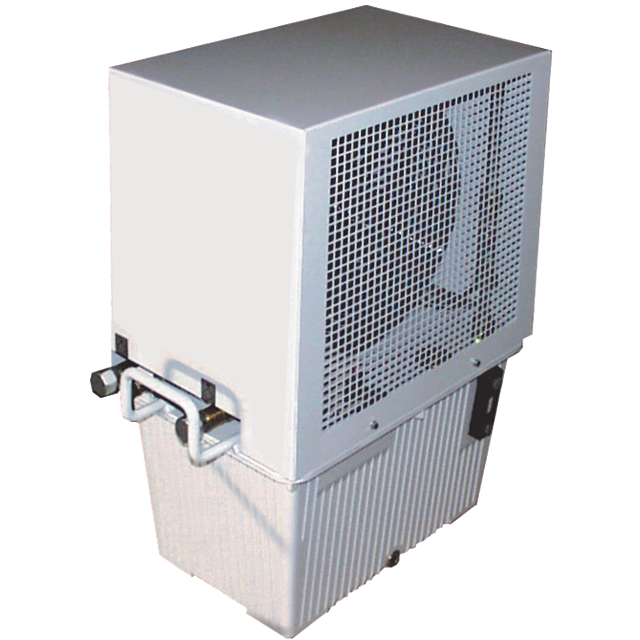 Technical Specifications
Nominal Cooling Capacity
4,500 Watts
Nominal Operating Flowrate (60 Hz)
22.0 L/min @ 3.5 Bar
Nominal Operating Flowrate (50 Hz)
22.0 L/min @ 3.5 Bar
Coolant
Shell Diala S3-ZXIG
Operating Temperature
10°C to 40°C
Storage temperature range (w/o coolant)
-25°C to 70°C
Humidity range
20% to 90%
Storage Humidity range
5% to 95%, non-condensing
Flow Switch Open
≤ 14 L/min
Maximum Forward Pressure
9 Bar
Coolant Capacity
23 Liters
Couplings
Press Fit (9 mm ID hose)
Any information furnished by Laird and its agents, whether in specifications, data sheets, product catalogues or otherwise, is believed to be (but is not warranted as being) accurate and reliable, is provided for information only and does not form part of any contract with Laird. All specifications are subject to change without notice. Laird assumes no responsibility and disclaims all liability for losses or damages resulting from use of or reliance on this information. All Laird products are sold subject to the Laird Terms and Conditions of sale (including Laird's limited warranty) in effect from time to time, a copy of which will be furnished upon request.

© Copyright 2019-2021 Laird Thermal Systems, Inc. All rights reserved. Laird™, the Laird Ring Logo, and Laird Thermal Systems™ are trademarks or registered trademarks of Laird Limited or its subsidiaries.
Date: 03/02/2021