Thermoelectric assemblies (TEAs) are compact units that control the temperature of a wide variety of applications, such as laser diode packages in active optics, lasers in medical and industrial instrumentation, electronic enclosures, sample storage chambers in medical diagnostics and analytical instruments and batteries in various automotive and telecom applications. TEAs have a cooling capacity spectrum ranging from approximately 10 to 400 Watts, and can cool by removing heat from control sources through convection, conduction, or liquid means.

Portfolio Map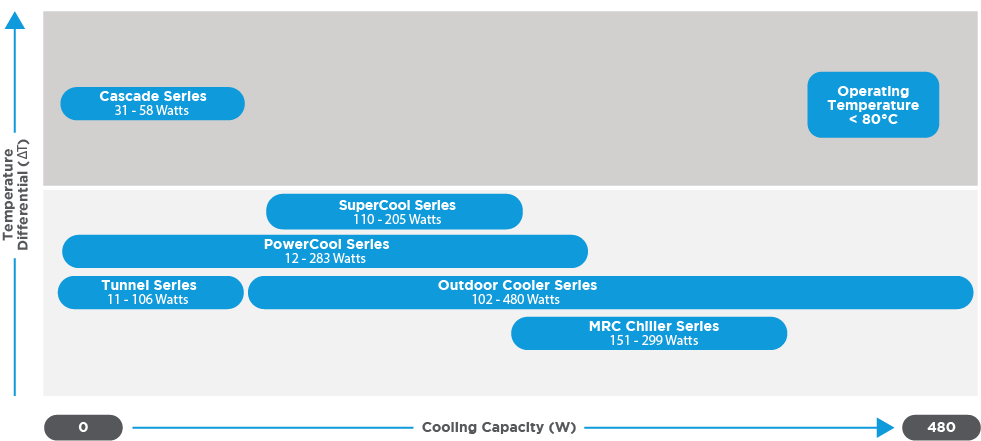 Advantages
TEAs offer several advantages over other cooling technologies. For example, conventional fan trays do not cool below ambient temperatures and require an air exchange with the outside environment. On the other hand, TEAs can cool to well below ambient and protect electronics inside enclosures from outside contaminants, and also limit moisture exposure from the outside environment. TEAs also offer precise temperature control, accurate to within 0.01˚C under steady-state conditions.
Advantages over conventional compressor-based systems:
Compact size
Lower weight
Lower noise and vibration
Mountable in any orientation
Environmentally friendly, as TEAs do not use CFCs and are RoHS compliant
Little to no infield maintenance
Lower total cost of ownership
Benefits for Designers
Engineers must now consider thermal management early in the product design process. Simple thermal management solutions, such as adding a fan or heat sink, are no longer typically viable to meet required performance and reliability specifications.
A standard TEA allows the designer to start with a basic set of building blocks that mate fans and TEMs to heat exchangers. Laird Thermal Systems has conducted two decades worth of design and validation testing on various combinations of thermal components to optimize cooling power and efficiency at various heat loads. This results in engineers saving time with redesign and validation testing a TEA that has already been perfected by Laird Thermal Systems.
Below is a summary of inherent benefits of initiating a thermal design with a standard TEA versus a custom solution:
Reduce product development time by initiated product at TEA level vs TEM level
Reduce costs by utilizing components that are already established in the supply chain
Long history of proven infield performance
Product enhancements are captured through market evolution
Laird Thermal Systems offers the industry's widest selection of TEAs. Products are designed and manufactured to strict process control standards and pass/fail criteria. Our standard product portfolio includes an extensive array of thermal management solutions that cover a wide range of cooling capacities with compact form factors and high coefficient of performance.
Standard operating voltages are 12 and 24 VDC, with 48VDC available on some models. The standard product offering includes heat transfer mechanisms designed to absorb and dissipate heat by convection, conduction, or through liquid heat exchangers. All products are manufactured in an ISO 9001:2008 certified facility and are designed to meet the cooling needs of many thermal management applications in the medical, analytical, industrial and telecom markets.
There are seven distinct TEA product families designed for a specific cooling capacity range, temperature differential range or tight space constraint.
The SuperCool Series of thermoelectric assemblies is designed for precise temperature control of small chambers used in medical diagnostics or sample storage compartments in analytical instrumentation. Featuring a unique hot side air heat sink design, the SuperCool TEA dissipates heat more quickly and efficiently than competing heat exchanger technologies. These units operate on 24 VDC and are designed for indoor lab use environments. Custom configurations available upon request.
The PowerCool Series offers the widest selection of cooling capacities ranging from 20 to 283 Watts. The TEAs use impingement flow to dissipate heat on the hot side. The cold side heat transfer mechanism can absorb heat using convection (heat sink and fan), conduction (cold plate), or liquid (heat exchanger) means. This product series is offered in 12 or 24 VDC configurations. For 100-Watt systems and higher, 48 VDC is available. The PowerCool Series is designed for indoor use in the medical, analytical, and industrial markets.
Air-to-air systems (AA) and assemblies offer dependable, compact performance by cooling objects via convection. Heat is absorbed and dissipated by heat exchangers equipped with fans and ducted shrouds. Specifications apply to ambient temperature of 32°C and nominal voltage with tolerances ±10%.
Liquid-to-air systems (LA) and assemblies cool or heat liquids that flow through a heat exchanger. The liquid heat exchanger is designed for a re-circulating system. It absorbs heat and pumps it through the TEM, where it dissipates into the outside environment through an air heat exchanger. Specifications apply to an ambient temperature of 32°C and nominal voltage with tolerances ±10%.
The Tunnel Series are designed with a patented, high-performance cross flow technology that maximizes heat transfer when pulling air through a heat exchanger. This reduces the number of required airflow paths when compared to traditional impingement flow TEAs. This product series is offered in 12 or 24 volt configurations and can cool by either convection or conduction means.
The Outdoor Cooler Series is designed for outdoor use to control the temperature of electronic cabinets. The product series has been designed to pass harsh environmental demands such as earthquake resistance, salt fog, wind-driven rain, high temperature exposure and dust. The cooling capacity ranges from 100 to 250 Watts. The Outdoor Cooler Series is offered in 24 and 48 VDC configurations and is ideal for use in telecom and industrial applications. As a standard option, products are also sold with bi-polar thermostatic control to heat and cool to specific temperature set points.
The Cascade Series is specifically designed to quickly reach colder temperatures - a typical requirement for many lab instruments. The TEAs are custom designed multistage cascades that achieve a high cooling capacity (Qc) at high temperature differentials (ΔT). The cold side mechanism can transfer heat using convective (sink and fan) or conductive (cold plate) means. This product series is offered in 12 or 24 volt configurations.
The DL Series Direct-to-Liquid assemblies cool or heat objects attached directly to the cold plate. Heat is dissipated into a liquid heat exchanger on the hot side. The liquid circuit is normally a re-circulating type that requires a pump. An additional liquid heat exchanger dissipates heat into the ambient environment. Specifications apply to the warm side liquid temperature of 32°C and nominal voltage with tolerances ±10%.
MRC Chillers are self-contained re-circulating chillers that offer dependable, compact performance by controlling the temperature of a coolant in a liquid circuit. The coolant is re-circulated using a pump with high mean time between failures (MTBF). Heat from the coolant is absorbed by a heat exchanger and dissipated through high density heat sinks equipped with brand name fans. The TEMs are custom designed to achieve long life operation. The unit is regulated with an easy-to-use digital temperature controller and is housed inside an aesthetic sheet metal casing.
Find the optimum Thermoelectric Assembly solution with the Thermal Wizard.